Florian Hadler, Alice Soiné, Daniel Irrgang (Eds.)
Interface Critique: BEYOND UX
Volume 1, 2018
Published at arthistoricum.net, Heidelberg University Library 2018.
doi: 10.11588/ic.2018.0
ISSN 2570-0472 (Print) ISBN 978-3-946653-91-2 (Softcover)
200 p., € 24.90 EUR
The initial volume of Interface Critique (IC) is now available as open access and print. IC strives to expose the implicit agencies, conditions and contingencies of interfaces, applications and apparatuses. IC does not require a generally accepted definition of the interface. IC encourages comprehensive and transdisciplinary perspectives. IC is neither interested in the enhancement of usability and mere ergonomic questions of design nor in the optimization of user orientation and user experience. IC promotes an understanding of the interface as a historical and cultural phenomenon.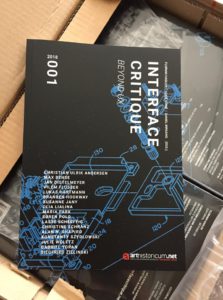 With contributions from: Christian Ulrik Andersen, Max Bense, Jan Distelmeyer, Vilém Flusser, Lukas Hartmann, Branden Hookway, Susanne Jany, Olia Lialina, Maria Park, Søren Pold, Lasse Scherffig, Christine Schranz, Alan N. Shapiro, Konstanty Szydlowski, Julie Woletz, Gabriel Yoran, Siegfried Zielinski